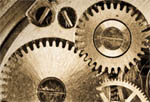 It's been seven weeks since the last update to eHive and the team at Vernon Systems have been busy.
The 12 March 2009 update includes:
New tab in the create/edit screen for Acquisition – 13 new fields covering acquisition notes, value, funding, credits and provenance.
New tab in the create/edit screen for Administration – 29 new fields covering status, activities, deaccessioning, copyright, research and comments.
New tab in the create/edit screen for Conservation – 27 new fields covering original and current condition, risk and handling, proposed treatment and completed treatment.
New fields in many of the existing create/edit screens, particularly for Natural Sciences.
The create/edit screen has been tidied up and has nice new icons.
Choose which is the main (primary) image for objects that have multiple images
New link on the home page to View Account Usage – this shows the usage of disk space in the account, links to a history page of usage over time
Acquisition Lot details
We are currently working on an additional screen to record details of acquisition lots. This covers some of the key acquisition information including the source, method and date. These have been separated from the main object information to allow the same acquisition information to be shared by multiple objects and to allow acquisitions to be recorded before full object cataloguing has begun. The acquisition lot screen is scheduled for the next major update in April/May.