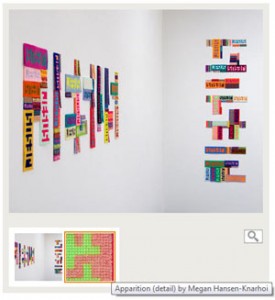 This upgrade of eHive has been completed. There are major additions including new export options and a simplified page address structure.
Exporting enhancements
This upgrade includes new export formats: Export public, core or full record details in comma separated values format (CSV) and Microsoft Excel format.
This means you could easily export your records for use in Open Office or Microsoft Excel format. Each export offers options for how repeating fields (like tags or primary creator/makers) will be separated in the final data. This data can be separated by commas, new lines or tags.
Standard Reports
New PDF based standard reports are included in this release. The first two add to the functionality of administrating communities:
Community Administration Reports
• Summary report – easily review the total of pending, approved and declined members for your community. You can also view the total number of published object records contributed to date.
• Download a list of approved members for your community.
Object report
A new label report for printing exhibition object labels has been added. This prints key description information about the object with a small image. You can use standard full sheet sticky label stationery if the label is to be affixed to the wall.
Search Friendly URLs
The web address structure within eHive has had a serious reworking.
As an example, the current object page addresses look like:
http://ehive.com/index.php?option=com_ehive&task=showDetail&recordIdSet=2406
In this release the addresses have changed to a shorter more consistent format. For example, the above URL has changed to:
http://ehive.com/account/3404/object/534995 (NOTE: May 2016 – The URL format has now changed to https://ehive.com/collections/3404/objects/534995)
The new address structure gives several benefits:
More readable for users
Better indexing by search engines
Easier editing of the addresses to get to other content (e.g. open the page for a specific record by typing in the URL)
Better grouping of content belonging to one account (museum/collection)
Full support of the web browser back and forward buttons.
Object pages are now always under the "ehive.com/account" adddress structure, allowing us in the future to provide web statistics for all object page views for each specific account.
The changes are also laying the groundwork for our future public application programming interfaces (APIs). The old website addresses will automatically redirect to the new style addresses.
User Interface Overhaul
The HTML and CSS of all pages in eHive, including all of the admin pages, has been reworked. The main changes are:
Simpler validated HTML/CSS giving faster page download
Crisper more consistent appearance
More page specific detail is now included in the web browser page title
All 'tool' links now generically appear in a Tools section on the right hand side of the page
New image slider and zoom features on the account profile and object detail image sections
New icons to indicate the type of object (art, library etc) in summary results views
Label view has been removed to simplify the results navigation
Detail view is accessed by clicking on an individual results from the summary or lightbox view and then using the browser Back button to go back to the results
Minor changes to support Firefox 3.5 and Google Chrome
Faster performance throughout the site.
Getting a consistent breadcrumb trail across the site has been difficult as we work with the Joomla article content (news, featured clients and community) and eHive application content (accounts and objects). We're still doing work on this and a new breadcrumb trail is planned for later in the year.
Acquisition Records
There is still work remaining on the development of separate Acquisition Records to allow you to track common acquisition information for one or more objects in a single acquisition record and to track acquisitions before they are approved.
The acquisition record includes the source of the acquisition, the method by which it came into the collection, notes, date, a description of the whole acquisition, price and valuation. Acquisition records can be created before the cataloguing of the individual objects if necessary, and be linked to one or more object records that share the same acquisition information at any time.
The Acquisition Record functions have been split into the next major upgrade later this year.