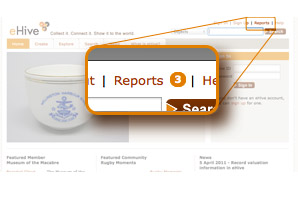 eHive's latest upgrade, version 3.2, includes a revamp of the reporting tool.
The reports have been rebuilt in Jasper, a report design product, and a new downloads section has been added to eHive to allow reports to generate in the background while you continue with your work.
Changes in this eHive version 3.2:
Previous PDF reports replaced with neater versions built in Jasper
Reports download in the background
Account holders can run reports on any number of records
Public users can report on the current page of results
Past reports can be retained in the Reports download section
A new Inventory report has been added, with each object's basic details, image and current location.
You can read more about the new reporting on the eHive Help website: http://en.wiki.ehive.com/wiki/Reporting
We're now reworking the existing Excel download option to use the new background reporting options.