Welcome to a new way to explore eHive! The eHive.com home page has been revamped and there are extended options for searching for objects on the public website.
Explore eHive records through the Recently Added Objects, Popular Objects, and Catalogue Type lists, or views records through our links on the most popular Object Types.
From the count next to each Object Type, we can see that there are more photographs than any other medium.
You can use the search box to look for any objects recorded in eHive, which now includes over 1 million objects. At the time of writing, there are 3,571 boats, 172 bras and 12,477 records to do with brass bands.
When you're on the search results page you can refine your search even further with different facets. You will find a range of facets (or filters) on the left side of the page.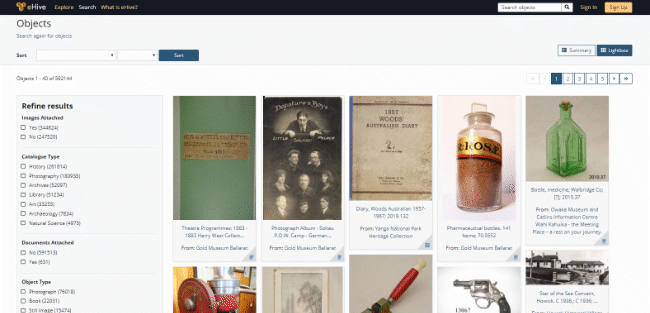 These filters give a whole new dimension to searching eHive. You could restrict your search to only records with images, or only the records related to a particular maker. You could refine your search for plants so that your results only showed you records of Object Type photograph or fossil.
Once a single record has been selected, then you will see high resolution copies for some images using pan and zoom options added earlier this year.
You can read more about this new way of treating images here.
How to get your records ready for Faceted Search
This new faceted search functionality may have you revisiting your records to see how they will be affected.
The search box will search all text in the object record, so you do not have to move terms to specific fields for them to be searched.
You may want to see what other terms might make your objects easier to find or more relevant to the visitor. You may want to add Object Type, Maker, Subject and Association Keyword, Images and Documents to your records to give better access to your collection.
You can also add tags to your object records. Find out more about how to add tags and comments .
We're now working on extending the search facets options into the logged in application (my.ehive.com) for eHive account holders to make use of. This will be available in December 2019.