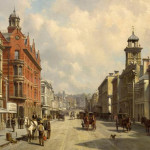 eHive is developed by Vernon Systems Ltd. We are dedicated to creating software for the museum and gallery market.
Bil Vernon founded the company in 1985. Vernon Systems released the world's first commercial PC-based museum system in 1987. Since then Vernon Systems has grown into a world leading provider of collections management software.
eHive is our web-based collection management system. Released in 2008, eHive is the product of extensive research and consultation with the culture and heritage sector. The system was originally designed to meet the collection management needs of smaller organisations and individuals, and to provide a viable avenue for online publishing. These days a growing number of larger institutions using other collection management systems have chosen to also use eHive as a platform for publishing their collections online.
One of our major communities is NZMuseums, an initiative of National Services Te Paerangi, a department of New Zealand's national museum, Te Papa. The site showcases the museums of New Zealand.
Today eHive is used by more than 1,000 groups, organisations and collectors. Our website eHive.com is a truly unique interface that enables people to search and discover collections held all over the world in national and regional museums, historical societies and private collections. Our Roadmap page describes planned future development for eHive.
Vernon Systems has a range of products suitable for all types of collections, from large institutions to private collectors. Our collection management systems are used around the world by institutions with diverse collections and needs.