In December 2017 we announced the Project Ark: Digitising Southland's heritage collections in a blog post.
Project Ark is a two-year pilot to start to catalogue Southland's heritage collections and share them online. The Pilot is a collaboration between the Invercargill City Council, the Southland District Council and the Gore District Council. It is funded by their combined heritage rates and overseen by the Southland Regional Heritage Committee
We are happy to now release the Cataloguing Standards for Project Ark and eHive.
The Cataloguing Standards for Project Ark and eHive
A lot of care and attention has gone into designing a solid foundation for cataloguing all the objects in Project Art. Project Ark has partnered with Vernon Systems to develop a set of standards to give each of the region's museums a clear understanding of what information to enter into the database. This promotes best practice, self-help and consistency.
The Cataloguing Standards for Project Ark and eHive sets out standards for cataloguing museum the objects from individual museums to ensure a consistent regional approach for museum collections.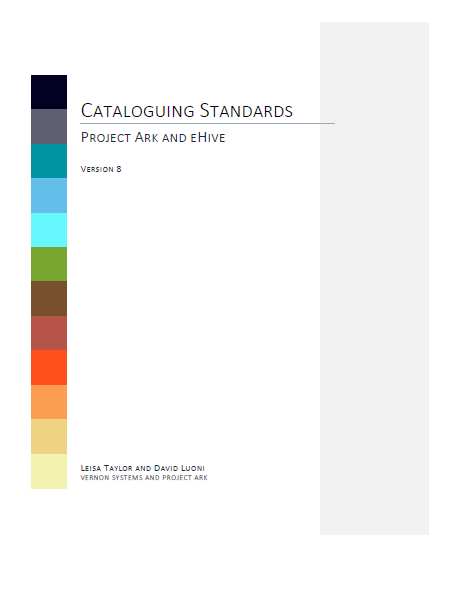 The document outlines how to create and save objects in eHive followed by guidelines specific for History records, Archaeology, Archives, Art, Library, Natural Sciences and Photography & Multimedia.
This is followed by a section on Ongoing Collection Management Fields, covering topics such as loans in and out, exhibition history, deaccessioning, treatment and copyright.