eHive collection profile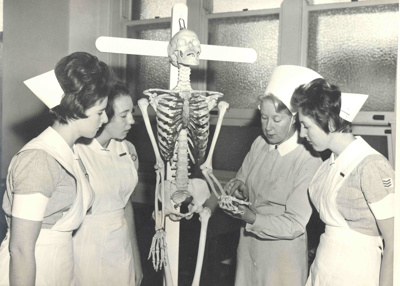 Collection Description:
The web-based Health Museum is the first stage towards developing a physical museum. It is designed to showcase health objects and collections held within South Australia, initially focusing on the institutions within Central Adelaide Local Health Network: Royal Adelaide Hospital, The Queen Elizabeth Hospital, SA Dental, SA Pathology and Hampstead Rehabilitation Centre.
---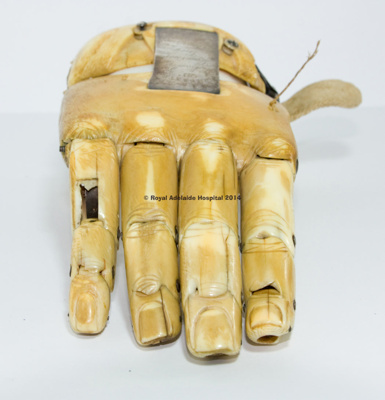 Object of Interest:
Name/Title
Equipment: Corporal Coles Prosthetic Hand
About this object
Whale bone prosthetic hand.
Corporal John Coles, Miner and Sapper, was injured in a parade ground accident. In 1842, while preparing for the second firing of a cannon in a celebratory salute in honour of the birth of the Duke of Cornwall, the gunpowder exploded early and Corporal Coles lost the fingers of his right hand except the thumb, and the top of his left hand forefinger. Colonial Surgeon, James Nash, performed minimal amputation of the damaged areas as Corporal Coles was concerned to not have his entire hand amputated.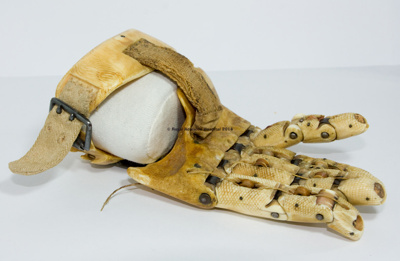 Robert Hasting Norman, Surgeon Dentist, arrived in Adelaide in 1844, establishing the colony's first dental practice in Wright Street. A learned gentleman, Robert Norman also carved objects from ivory and bone, exploring mechanical applications with his craft. Governor Grey sponsored the construction of a prosthetic hand by Robert Norman for John Coles. An engraved silver plaque, 'Presented by His Excellency Governor Grey – Robert Norman Inventor', is attached to the prosthetic hand. The plaque does not impede on the functionality of the hand. John Coles used the prosthetic hand until his death 1886. Made out of whalebone, it has four fingers and is operated using strings and pulleys. The fingers are flexed by contracting the strings which are connected to a ring on the remaining thumb.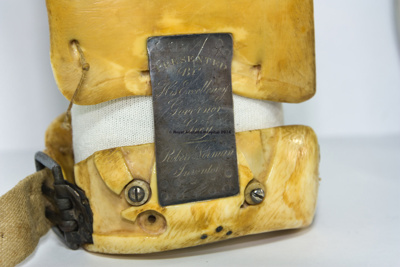 The prosthetic hand was reported as being made from 'sea-cow', intricately carved to copy details of fingers and nails. The catgut pulleys were interlinked with small spools, carefully worked into the knuckle joints, manouvered by the limited lateral mobility of the only remaining digit, the right thumb, over which a ring was placed which attached to the pulleys. The prosthetic hand was described as 'beautiful in its mechanism and accurate in its working that Corporal Coles could pick up a button or a sixpence with pleasing facility'.
Donated by Mr DW Jordan, Adelaide
Maker
Robert Norman
Maker Role
Manufacturer
Date
1845
Place Made
Adelaide, Australia
Medium and Materials
Whale bone, metal spools, catgut pulleys, fabric
Inscription and Marks
A silver plaque is attached to the hand is engraved 'Presented by His Excellency Governor Grey – Robert Norman Inventor'
Measurements
Small "hand size" approximately L16 x W8 x H6.5 cm
---
Subject and Association Description
Born in North Devon, England in 1814, John Coles at age 23 joined the British regiment Corps. Sappers and Miners. In 1837 he volunteered to join an exploration party of five men, led by Captain George Grey, to sail to Australia and explore the north-west and west coast of Western Australia. Journals written by George Grey detail the many hardships and experiences of the exploration party over the next two years. Captain Grey held Corporal Coles in high esteem and referred to him as 'my faithful and tried companion in all my wanderings'.
The newly appointed Surveyor-General for South Australia, E.C. Frome and family sailed into Pt Adelaide in September 1839. They were accompanied by a party of Sappers, including Corporal Coles, to make headway in the survey of the large areas of land in the new colony.
Corporal Coles also joined the support party of Edward John Ayres on his exploration of northern South Australia in 1840 and 1841.
Captain Grey had returned to England in 1840 before travelling back to Adelaide in May 1841, within the next year Captain Grey succeeded Governor Gawler, becoming the third Governor of South Australia.
Object Type
Equipment
Object number
AR#1723