You can choose how your images are viewed by public users in eHive. By default all account users will see the full size image with pan and zoom functions.
Public or private images
You can choose whether an image is:
Account users only (the image remains private)
Approved for publication (the image can be public)
Record level access (if the record is public, the image is public; if the record is private, the image is private).
To change the image permissions, open the object record and go to Edit Images. Find the Image you wish to edit and click on the Edit button. you will see three radio buttons to choose from on each image. Choose your desired Access Level and click the Save Attributes button.
Full size or maximum 800 x 800 pixel images
eHive has two ways for the public to view images, either the full size of the original image or a smaller 800 x 800 pixel size. You can choose the image display size for each image or have a defaults for all images.
Choosing Full Size image display will allow public users to save an image the same size as their monitor display.
As soon as one image is restricted to the 800 x 800 pixels maximum size, all images will show the smaller display on the public record (i.e. no full size images will display for that record).
To change the display size, open the object record and go to Edit Images. Find the Image you wish to change and click the Edit button next to it. You can then choose the appropriate resolution.
800 x 800 pixels maximum. This will show an image at most 800 x 800 pixels when the public user clicks on the image.
Full size (the original image that was uploaded will display). This will be limited by the size of the user's monitor. Users will be able to view the image with Pan and zoom.
Use copyright licence image resolution. This will show either 800 x 800 pixels, or the full size image, depending on the copyright licence. The image will inherit the display size set for each copyright licence in the Account Settings > Preferences and Data Access).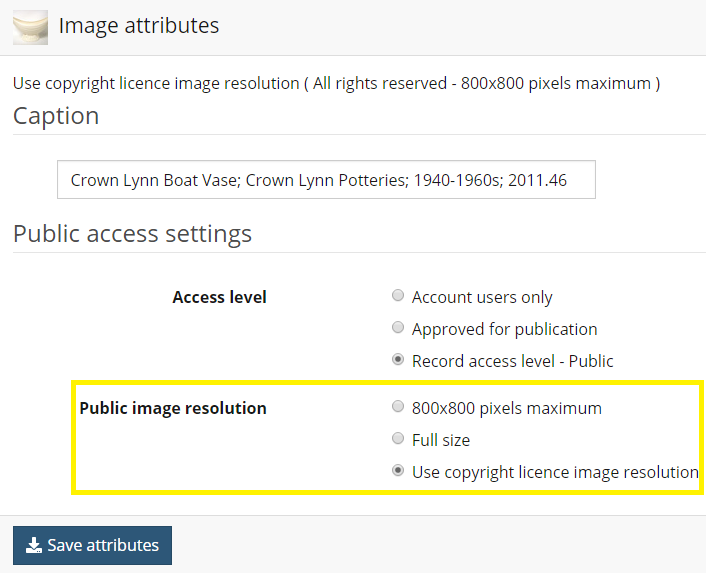 Click on the Save attributes button to save your choice.