eHive records are made up of several different types of fields. Information about each individual field can be found in the Field Help section.
Text fields
Text fields are for free text data about the object you are cataloguing. Free text means you can type anything – words, numerals and symbols.
They can be either unlimited in length, such as the Web Public Description field or limited, such as the Significance field, which allows up to 1000 characters.
Pick List fields (authority controlled fields)
Pick List fields enable you to create and use a standard set of terms. This helps ensure that common terms are entered consistently. New terms can be added at any time, and once terms have been created they will be available every time you access that particular field.
A common way to describe this is an 'authority controlled' field. If you see a button next to the field that reads Term Pick List, then this field is an authority controlled field.

Selecting terms to use in your records
There are two ways to select a term to use in your record.
Type directly in the field. If there are already terms created in your account, a dropdown list will appear with up to 100 existing terms which match the text you have entered. You can select one of these terms or use the View All Terms link to open the Pick List Editor.
or
Click on the Term Pick List button next to the field. This opens up the Pick List Editor containing the available terms for this field. Select a term from the Term Pick List window by highlighting it, then clicking on the Use Selected Term button.
How to create a new term in a pick list field
Click on the Term Pick List button next to the field you are working in. This will take you to the Pick List Editor window.
Click on the New Term button at the top of the Pick List Editor.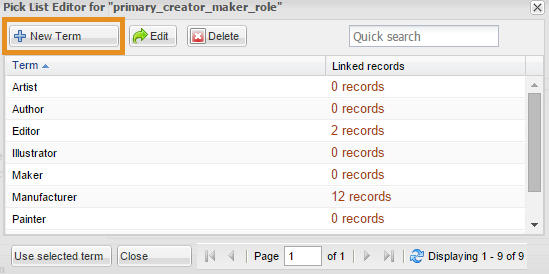 Enter the name for the new term in the 'Add New Term' window and press OK. Please note you will need to enter this term exactly as you want it to appear on the object record. You will now see your term in the main term list.
Editing terms
If you need to change the name or alter the spelling of your term, you can do that in the Pick List Editor.
How to edit a Pick List Term
On the Create Screen navigate to the field in question.
Click on the Term Pick List button to open the Pick List Editor.
Highlight the term you wish to amend, and press the Edit button.
Edit the term.
Press OK. The system will then reflect that change in every record in your account that uses that term.
Deleting terms
Deleting a term from a field:
Click in the field
Press backspace on your keyboard.
How to delete a term from appearing in your Pick List
You can only delete terms that are not currently in use in object records. The Linked records column in the Pick List Editor displays the number of records that currently use the term. If the number is zero, this means the term is not in use in any other records and can be deleted.

To delete the term:
Open a record in the Create Screen and click into the field related to the term you wish to delete.
Click on the Term Pick List button to open the Pick List Editor.
Click on the term you wish to delete and click the Delete button on the Term Pick List window.
If the term you would like to delete is used in one or more records you'll need to remove it from these records before you can delete it. Click on the link in the Linked Records column to open a list of records using the term. You can then edit these records, removing the term. Once it has been removed from all records in your account you will be able to delete it.
Note: If you restore a deleted record that links to a deleted term, then the deleted term will also be restored.
Date fields
You can record either precise dates (1 June 1964) or imprecise dates (March 1990, or 20th Century) in a date field.
Date fields accept both text and numbers.
Number fields
Number fields only allow you to enter numeric data. The Item Count field is restricted to whole numbers, but all other Number fields allow at least 2 decimal places. Any additional information about currency can be recorded in an associated notes field.
Global Term fields
Global Term fields must use a term from the Global Term list associated with that field. Global Terms are pre-defined and standard across all eHive accounts. Users cannot create new Global Terms. If there is a term that you believe should be added to the system, please email us at info@ehive.com. Examples of Global Term fields include the Dublin Core and Valuation Type fields in object records, and the Acquisition Status field in acquisition records.
Public and Private fields
All fields in eHive are categorised as either Public or Private.
Public fields on published object records are visible to all eHive visitors. These fields should only be used to record information about your object which you would like the public to view. Public fields are grouped together on the Public tab of the create screen.
Private fields can be used to record important administrative information that may not be suitable for publication, such as acquisition sources or valuations. Information in these fields will not be visible to the public, even in published records.
Single and Multi-value fields
All fields in eHive are also either single valued or multi-valued. Single valued fields will accept one entry and multi-valued fields will accept multiple entries.
Examples of multi-valued fields include Primary Maker and Technique. This means that if an object was made by more than one person or company, or was created using more than one technique, you could enter multiple terms in these fields, each on a separate line.
Multi-valued fields all have an Add Another Line button in the Create screen. Just click the button to add a new entry.

To delete an entry from a multi-valued field, press the delete button next to the line you want to delete.

For grouped fields, you will see the option to add another set. This works in the same way, and will add another group of fields for your second entry.