Adding tags to object records
You can do this on the Detail view of a record:
Open the record you would like to tag in Detail view.
Enter your tag in the Tags box and click the Add Tag button.
Note: Only one tag can be entered at a time. If you'd like to enter more than one tag, enter your first tag and click the Add Tag button before entering the next.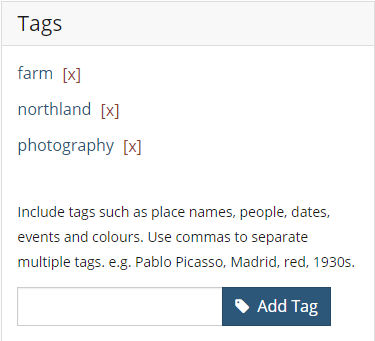 As a public user you'll only see the Add Tag button if the account holder has chosen to allow public tagging of their records. Please see the topic on troubleshooting Tagging for more information. In earlier versions the tags could also be edited on the Create screen, but they are now always maintained in the same place – on the main Detail page for the record.
Adding comments to records
To add a comment to a record:
Open the record you'd like to comment on in detail view and scroll to the bottom of the page. If the account holder has allowed commenting you'll see an Add Comment link.
Click the Add Comment link, and enter your name, an email address (optional) and your comment.
Click the Captcha checkbox. If a green tick appears you can proceed to the next step. If you are presented with a puzzle, follow the on-screen instructions to solve this.
Click the Add Comment button.
If you are an account holder, your comment will be accompanied by your Preferred Display Name from your eHive account profile details. If you are not an account holder, you can type in the name you would like to appear alongside your comment.
Once a comment has been added to a record it will be visible to anyone who views the record.
To learn how you can control who can enter comments on your records, please see the next Help topic Account Holder Settings.