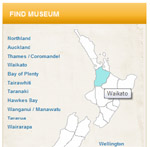 The last two months has been a busy time for the web development team. One of the projects has been the redevelopment of the NZMuseums website. McGovern Online have updated the branding of the site and this has flowed through to all pages. The home page has also had a major overhaul.
The changes include a new interactive map to find museums, display of the latest tweets from the NZMuseum Twitter stream, latest tags on the home page, a search box in the header to allow searching from any page, and new RSS and Share buttons.
You can view the site at www.nzmuseums.co.nz.