In eHive you, and optionally public users, can add tags (keywords) to each record, and you can allow public users to comment on your records. Each object record also clearly displays the copyright licence you have assigned.
Tags
You can choose to allow eHive users to add tags to your object records.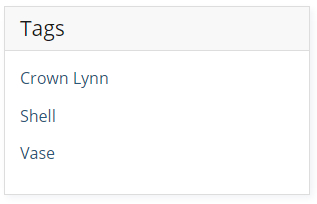 Tags are descriptive keywords and phrases that can help people search and discover your content. Any tags added to your object records will appear in the tag cloud on your account's profile page.
Comments
You can also choose to allow eHive users to add comments to your object records. These will appear at the bottom of the record. If you would like to be notified when a new comment is added to a record you can enable this option in your account settings.
Copyright
All Object records in eHive display a Copyright Licence which determines how others can use your content. There are 10 copyright licences available, ranging from 'Public Domain' to 'All Rights Reserved'.
There is full support for Creative Commons licences.

You can choose which licence you would like use as your default licence. You can also override this default for individual records.